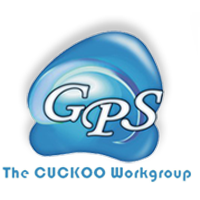 Post-translational Modifications
Our group is engaged in the study of post-translational modifications(PTMs) using computational approaches. We have
been developing a high-effective algorithm named GPS (Group-based Prediction System) for the prediction of PTMs sites.
Based on the GPS algorithm,over ten types of PTM predictors have been released. We also built a series
databases for protein phosphorylation, lipid and lysine modifications. Recently, we are combining
the computational methods with the technology of BiFC(Bimolecular Fluorescence
Complementation) to develop a systematic approach for studying
the SUMO regulation in Homo sapiens.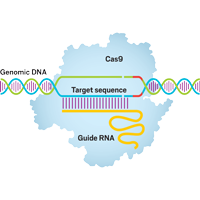 Gene Editting with CRISPR
Our group also focus on developing computational tools for assisting the design of CRISPR system. Currently, we have
developed a high efficient binary alignment scheme to screen out potential on-target and off-target sites from
the whole genome. Using machine learning methods, such as Random Forest, we predicted the cleavage
efficacies of the potential target sites, and recommended an optimal gRNA design for the users
based on our predictions. A subsequent experimental validation will be also
performed in the near further.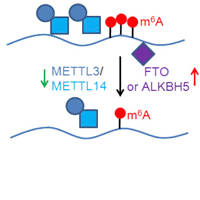 RNA N6-methyladenosine Modification
RNA N6-methyladenosine (m6A) modification has a critical role in the regulation of many fundamental biological processes.
However, the role of m6A in cancer is poorly understood. We have developed a computational tool, which is called
"m6A Finder", for predicting m6A modification sites at single-nucleotide resolution. We then systematically
investigate the m6A-associated somatic mutations in cancers using TCGA data. We are also
developing algorithms to analyze m6A-Seq data, such as peak calling
and differential methylation analysis.